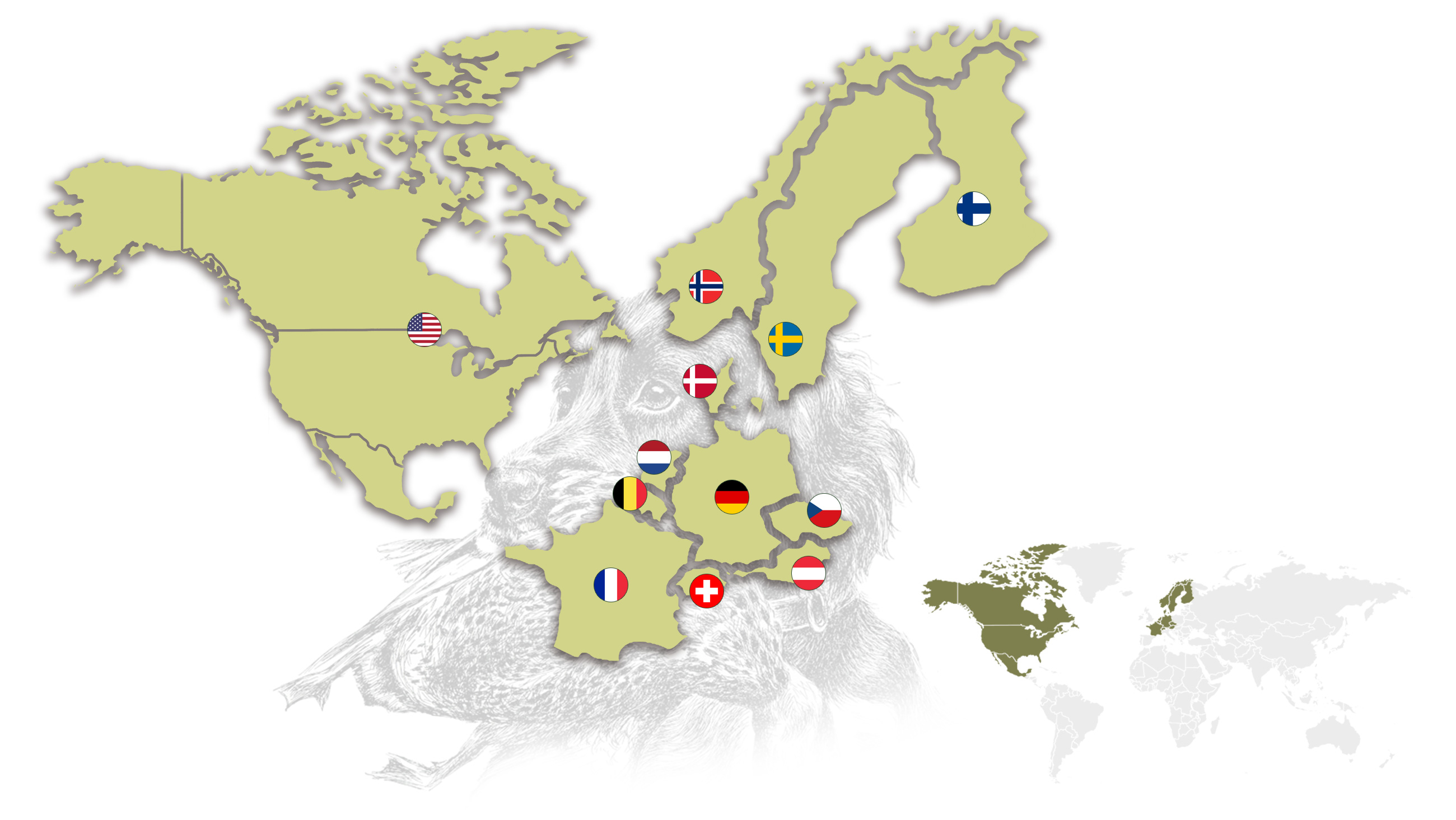 Kleine Münsterländer Group North America
Club Français des Epagneuls de Münster et du Langhaar
Schweizerischer Klub für kleine Münsterländer Vorstehhunde
Der Münsterländer - Österreichischer Verein für Große & Kleine Münsterländer
Verband für Kleine Münsterländer e.V.
Nederlandse Vereniging van Heidewachtelliefhebbers
Move the mouse over the map. Click on the website of the member club
 BELGIUM
www.kleinemunsterlandervereniging.be
President
Philip van der Biest
Gentsestraat 13
B-9520 Zonnegem
Mail: philip.van.der.biest@telenet.be
 DENMARK
Dansk Münsterländer Klub
Internetseite: www.dmk-online.dk
Chairman:
Rune Riishoej  
Over Spangen 6  
DK-7800 Skive
+45 22 84 83 65  
riishojdmk@gmail.com
 GERMANY
Verband für Kleine Münsterländer Vorstehhunde e.V.
Internet: www.kleine-muensterlaender.org
President:
Dietrich Berning
Provinzialstraße 24
46499 Hamminkeln
Tel: 0049/ (0)2873 261
Mail: dietrich_berning@t-online.de
 FINLAND
Saksanseisojakerho ry – Suomen Münsterikerho ry
Internet: www.munsterikerho.com
President:
Harri Hyppänen
Päiväkunnaantie 21
FIN-44120 Äänekoski
Tel: + 358505320016
Mail: harri.hyppanen@elisanet.fi
 FRANCE
Club Francais des Epagneuls de Münster et du Langhaar
Internet: www.cfeml.com
President:
Magali Boulanger
45 rue de L`Herauderie
Lieu-dit Le Bouche
F-86140 Lencloitre
Tel: 0033/0516178546
Mail: ptitmunst86@live.fr
Contact to Germany:
Presently unoccupied.
 NORTH AMERICA 
ASSOCIATED MEMBER
Kleine Münsterländer — Group North America (KlM-GNA)
Internet: www.klm-gna.org
President
James Julson
22748 471 Avenue
Colman, SD 57017
Tel.: + 1 (605)530-0074
Mail:  jljulson@svtv.com
Contact to Germany:
Ken Bremer
6805 Fox Run
Crystal Lake, IL 60012
Tel.: +1 (312) 375 – 2796
Mail: kwbremer@gmail.com
 NETHERLANDS
Nederlandse Vereniging van Heidewachtelliefhebbers
Internet: www.heidewachtelvereniging.nl
Chairman:
Harrie Verhoeven
Doelenstraat 43
5081 CK Hilvarenbeek
Tel.: 0031/653449029
Mail: voorzitter@heidewachtelvereniging.nl
 NORWAY
Norsk Münsterländer klubb
Internet: www.nmlk.no
Chairman:
Ernst Evensen
Kolstadveien 1
NO-3350 Prestfoss
Tel: 0047 40625685
Mail: leder@nmlk.no
 AUSTRIA
Österreichischer Verein für Große und Kleine Münsterländer
Internet: www.muensterlaender.info
President:
Mag. Philipp Ita
Stift 1
3321 Ardagger
Tel.: 0043/664/8417042
Mail: philipp.ita@gmx.at
 SWEDEN
Svenska Vorstehklubben
Internet: www.vorsteh.se
Chairman:
Rolf Grönstedt
Ensta 3
S-17893 Drottningholm
Mail: Rolf.gronstedt@telia.com
 SWITZERLAND
Schweizer Klub für Kleine Münsterländer
Internet: www.klm-muensterlaender.ch
President:
Urs Hoppler
Schulstraße 11
CH-8965 Berikon
Tel.: 0041/566336017
Mail: praesident@klm-muensterlaender.ch
 CZECH REPUBLIC
Klub dlouhosrstych oharu
Internet: www.ohardlouhosrsty.cz
President
Ing. Jiří Kec
34194 Srni 170
phone: 0042/420376599318
Mail: Kec.sumava@seznam.cz
Contact to Germany:
Petr Buba
Nový Dvůr 33
Kněževes u Rakovníka
PSČ 27001
phone: 0042/606265615
Mail: P.Buba@seznam.cz